Yoga Alliance® Online Namaste' Journal
Write for us: The Yoga Alliance® Online Journal is a vibrant platform available by invitation only to offer the opportunity to anyone to share common passions and interests for Yoga, Yoga History and Philosophy, Pilates, Meditation, Ayurveda Medicine, Nutrition, Wellness, Spirituality, Holistic health and living well.
In order for us to accept and publish third party material the following criteria apply:
Written material must be original NOT copied from internet sources or appearing anywhere else on the WWW. Our editorial policy does not allow for any 'duplicate' content across the internet.


The author must be the copyright owner. The author's name should clearly appear at the footer of the document i.e: Yoga Alliance© 2012 All right Reserved.


Articles should be FREE of racist comment or reference, offensive language and images.

We do not pay for articles or publications. The Journal is designed for sharing your articles with a wider audience makes you more visible in your field, enabling you to cultivate a stronger reputation, promote your credentials and move forward in your career.

Non-English speakers can use free translation software available from the internet.

Check how you can promote and share your articles Promoting and Sharing Articles
All material must be submitted by email to us for approval via the e-form: Contact Us
---
Meet Our Editor in Chief Francesca Cassia "The First Lady" of Italian Yoga
With yoga it has been love at first posture! Francesca Cassia.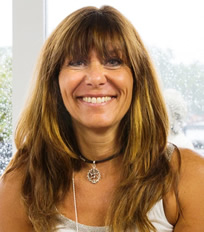 Francesca Cassia, described by colleagues, students and followers as "The First Lady" of Italian yoga was born in Rome, Italy.
In her early twenties, Francesca undertook karate and yoga under the guidance of Sensei Roberto Milletti, karate champion, world renowned presenter and Master Yoga Teacher featured in "Om Yoga Magazine UK" as one of the three world leaders in contemporary yoga.
Roberto's teaching methodologies and techniques deeply influenced Francesca both as a martial artist and yoga teacher. Inspired by her "mentor", Francesca went on to earn her first Dan black belt in karate and the title: Niji. She went on to became the first female Italian world acclaimed Master Yoga Teacher and International presenter in her own right.
During their yoga and martial arts training together, Roberto Milletti who also happened to be very handsome, and Francesca a stunning young lady inevitably fell for one another giving life to one of the most solid and long lasting love story and professional partnership the Italian yoga industry has ever seen.
Together, they co-founded Odaka® Yoga, an innovative style of yoga based on over thirty years of experimental research. Roberto Milletti and Francesca Cassia gave life to a new concept: "Live Centered, Liquefy Your Limits, Embrace the Power," which finds its inspiration through observing the movement of the ocean.
Odaka Yoga® incorporates martial arts, Zen and traditional yoga postures. Based on the dynamics of ocean motion and body rhythms that connects us. This beautiful flowing yoga style lead us to melt into the liquid form of the body making you free from all constraint and giving you the ability to transform and discover new shapes in ourselves.
Francesca is a member of Yoga Alliance (USA), Yoga Alliance® (International), Yoga Alliance® (Australia/International), Yoga Alliance® (Italia/International) and is on the board of the European movement for yoga and Ayurveda and she specialises in women's self-defense training courses.
Roberto Milletti and Francesca Cassia are the only Italians invited to teach at studios and yoga festivals worldwide. To find out more about Francesca and Roberto please visit their website: www.odakayoga.com
Yoga Journal - Featured Articles